Do you have Any Questions?
We have a variety of choices on our menus.
We choose the freshest and there fore the tastiest locally sourced (where possible) ingredients as we believe our diners deserve the best!
We like to use seasonal fruit and veg in our dishes and because of this and trying to buy ingredients locally our innovative menus change all the time, sometimes daily. So there is always something new and exciting for you to try.
Our menus are predominantly French however there are some British classics as well as combinations of the two so there is quite literally something for everyone.
Seafood is our speciality and you will often find dishes such as moules mariniere, seafood moneybags, oysters, Filey dressed crab, lemon sole and so much more in our ever changing menu du jour.
Our Children's Menu is made to suit even the fussiest of children. Whilst we still try to incorporate our style of cooking, we also understand that not every child likes to experiment with their food. However, smaller portions from our Menu du Jour can be made upon request for those children that like a bit more flavour. In this instance, prices may differ from those shown on the Chidren's Menu.
Downstairs at Le Bistro we offer a superb bar area, complete with relaxed seating and a fully stocked bar. We have the finest on offer, including fantastic, authentic French wines.
The ground floor isn't the only place to enjoy a drink – there is also a fully stocked bar in the restaurant upstairs; with numerous options that will compliment your meals. We also have a wonderful selection of teas and coffees.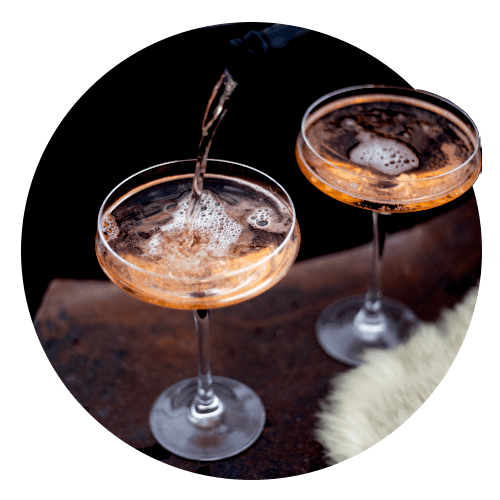 We think you'll enjoy our wine list. Everything – from the humble house wines to the most prestigious bottles are carefully handpicked for their delicious taste. And we offer many other drinks as well – from rich, smooth coffee to the popular French tipple, Pastis.
The wine list is mainly French with a selection from vineyards around the world to suit all pallets. All our wines are supplied from the exceptional wine merchant – The Wright Wine Company here in Skipton.